Mobile Websites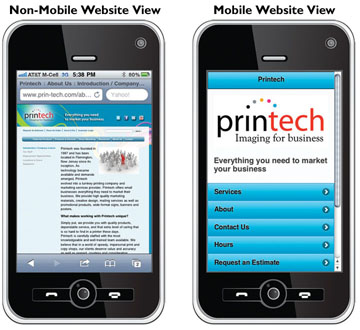 Mobile Websites
Anywhere, anytime
Convert your website to a "mobile" website format that is easy to navigate on mobile devices allowing prospective customers ease & convenience of viewing your website from anywhere within reach of their mobile device. With millions of smartphone users across the globe, it has become necessary for businesses to develop a website that is easy to navigate on mobile devices. Is your current website ready for a mobilized market?
When you work with Printech, we'll help you create convenient mobile websites for users who are always on the go, with the tools you need to improve your mobile platform. We'll develop sites that work great for accessing with:
• Smartphones
• Tablet PCs
• Portable MP3 players
What is a mobile website?
A mobile website is usually a mobile version of a company's existing site, but is formatted so that it is easy to view with smartphones, tablet PCs and other mobile devices. In many cases, however, organizations choose to develop unique mobile experiences tailored to customers who are constantly on the go.
Contact us to discuss how we can create a mobile site for you!