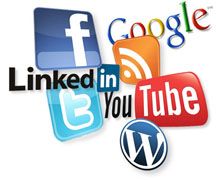 Social Media Marketing
Social Media is about building a conversation with your consumers. It's a great way to interact, promote, and connect with clients and prospects.
Within Facebook, Twitter, YouTube and LinkedIn we work to create a presence for you that will engage your audience.  Successfully using social media to drive sales, build traffic, and create a more personal relationship.
We help you connect with your audience, and then focus on building and sustaining the relationship between your company and your expanding audience.