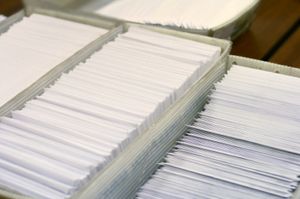 Direct Mail
Saving you time and money
Your direct mail campaign's success depends on your ability to effectively distribute your marketing materials to your targeted audience. This ensures each piece is delivered to the right person at the right address, with as little cost as possible. Our marketing team knows how important it is for your direct mail campaign to be properly implemented, which is why we'll take care of everything from list management and content development to packaging and mailing. When you work with us, we'll help you:
• Hit your direct mail targets
• Get noticed through your marketing pieces
• Save time and money with class certifying and pre-sorting
At Printech, we work with the US Postal Service on a daily basis, which means we'll help you secure the best rates possible for your direct mail campaign. Our team knows what it takes to provide mailing services that lead to your ultimate marketing success.
List Acquisition
Even if your direct marketing campaign has the perfect message, graphics, and copywriting, it will not be effective unless you're targeting the right people. If you improve your list, you'll improve your ROI!
At Printech, our marketing professionals will help you create lists that will keep you on the winning side of your direct marketing campaigns. When you work with us, you'll get expert assistance with list management, including:
• Buying and renting lists
• Building house lists
• Cleaning and managing databases
How will it help your business?
About 40% of a direct marketing campaign's success is based on its mailing list. Your product may be great and you may have extremely creative and attention-grabbing marketing materials, but without a strong list, they won't get the best returns possible.